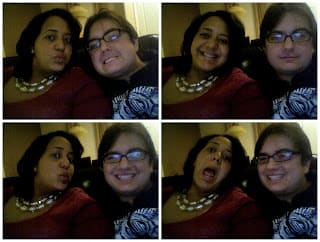 Jared and I stayed up to receive the new year, we drank some sparkly apple cider and watched You Again and Black Swan.  Mario didn't make it; he was too tired. We are really grateful for the new year 2011 and all the wonderful things that this year will bring to our family, like the new baby who is not letting me sleep because he is pushing on my diaphragm or lungs, so I can't breathe or sleep. These last few weeks have gone by so slowly, I just can't wait to have this baby.
Jared and Mario have been really helpful, especially with my mood swings because I am so uncomfortable. Let me explain: because I can't breathe very well, I don't sleep which makes me really angry at everything around me. Some days I have a lot of energy while other days I have to sleep until 1pm to be able to do the basic things. I also feel that this little guy is getting too big for my small torso. We think we might have a name for the baby, but we need to see the babys face first to be 100% sure that the name fits him.
I saw the baby last week in my weekly ultrasound, and he has a double chin, a lot of hair in the back of his head (a mullet) and spent the whole time eating his fingers. Cute little guy, I am excited and looking forward for this little guy to finally show up. Due date February 19th.