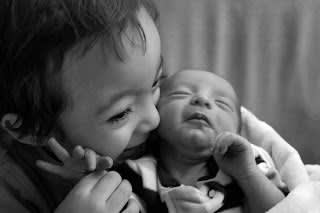 My two boys finally met. Mario loves Milo so much, he thinks Milo is so cute. He loves to feed Milo and before Mario goes to bed, Milo needs to be in bed with him for a little while so they can bond together. Isn't that sweet?
I was really nervous because I didn't know if they were going to get along or Mario was going to feel left out. I wasn't being fair with Mario, he is more mature than I thought. Mario has been really good, he loves to hugh and kiss Milo.
Jared and I also were really surprised to see how big Mario is next to Milo. In our eyes, Mario was still this tiny little boy but he is really independent and well behaved and a big boy.
Milo is going to be a week old tomorrow. I can't believe how fast time is going by.  I feel full of energy and I feel really positive.  I am so grateful for Jared and for his support. Jared thank you for my cute little boys. They are just perfect, life is just so beautiful right now.