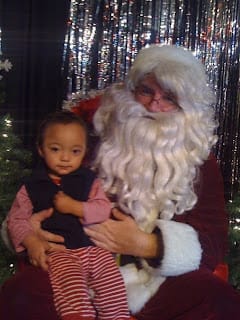 Mario and Santa 2009. He was a brave little boy, he stood in line waiting for his turn. Mario cried a little in the line and later he walked to Santa by himself.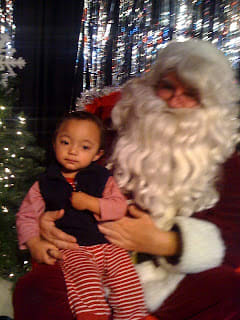 Mario is wearing his pajamas.
I'm proud of my boy. I really am. This is our first year in Santa Fe, I must say that the line to see Santa was really unorganized. Jared was the only dad in line and a bunch of moms were cutting in front of him and Mario. The line was for children from zero to five years old, so the youngest needed to go first, but that wasn't the case. I was on the side, counting to myself so I wouldn't scream at one of those rude moms cutting in front of Jared and Mario. In one moment, I took Mario and I told him to go to Santa and he was so obedient and did it. I gave those moms a dirty look. How is it possible that they want to take advantaged of my hubby and my baby, after they were in line for a long time waiting for their turn. That is not smart at all, is not wise to be on my bad side, seriously. I just can't take it.  I bet that won't happen next year.  I really can't stand those types of mothers. What are they teaching their children? Oh well, but for sure if they want to play dirty, I can play dirty. I think I made my point tonight: I'm nice but don't mess up with me.