Today Mario is seven months old. How fast time goes by. Also, this month on the 14th was my fourth anniversary living in the United States and next year I'll get my citizenship for real. I would like to get involved with politics to help immigrants and people who are illegals in this country but want  to become legal. After I moved to Belen I met so many good people who are illegals and would like to have another chance to do things right. This country was formed by immigrants from other countries who where persecuted by their religious  believes, or came here for the chance to have a new beginning.
I have learned so much in these four years and I have grown so much ( 30 pounds heavier.)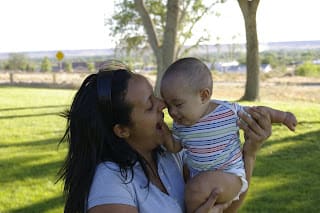 I learned English, I'm still struggling with it. I didn't know any English when I came here, I took two ESL classes and later I enrolled in a community college. My first class ever was Biology 110, I could understand everything but I couldn't speak, I passed the class with an A.

I learned how to be an individual and accepted that no everybody has to like me.
I learned that I'm not my parents.

I have been in so many places:Utah,New Mexico, Idaho, Mexico( Juarez),
(a big deal to me because New Mexico is four time bigger than the island where I came from)

I have grow closer to Jared...did you know that when I got marry I didn't know that Jared use glasses?
I learned how to cook, specially to cook meat.
I'm a sophomore in school, by the way I changed my major to Psychology and I still have a 4.0 gpa

I have a baby!!!
I learn how to drive.

We bought our first house, I love this house so much.
I'm the YW president for the Tome branch.
I'm learning how to sew.
I memorize 30 phrases in French. ( i will like to be three lingual)
I got my first job ever as a supplemental instructor for Spanish 101,102, and 201 and I worked as a babysitter for Jacqueline Kane.
I'm almost done reading and studying the Book of Mormon in English for the first time.

My testimony of the gospel has grown so much,I don't have all the answers  but one day I will.

I had the most beautiful pet in the world, Lola.
I did my genealogy up to four generations back.
I lost 10 more pounds, 20 more to go... my goal is weigh 135 pounds.
All this and I'm just 23 years old. I wonder what other things I will learn in the future.